Ho, ho, ho, Chasers!
Another year is coming to an end. Only in 2016, more than 2 million characters came to life, together we spent over 20 million hours in Ernas and the duo Kaz and Vulpine reached more than 480 days of union, that's enough time to go and to get back from Mars! To celebrate all these achievements, nothing better than a great update, right?
TL;DR A bunch of cash items were added to the store (including some old sets), new house system items, a crafting system, two new Gacha systems, new events  such as "Christmas Socks", "Just in time", "Solar Eclipse", and our new custom dungeon, "Winter Veil", 8 remodeled PvP maps, we removed old events, Gacha sets and old items, we optimized the client for Windows 10 users (1607), we marked the attendance for the days which the server was offline, and finally an explanation on why Season V isn't here.
Added In - Additions available until 12/31
Cash Store:
- Random Christmas Chests 1 and 2 (50 and 350 Cash respectively)

(Amazing Christmas Set, Christmas Tammy and GC Star)
Random Christmas Chest 1

Random Christmas Chest 2

Amazing Christmas Chest 1

Amazing Christmas Chest

Christmas Dream (1 unit)

Christmas Leslie

 

Christmas Mary Jane

Christmas Tammy

Enhancement Scroll +12

Enhancement Scroll +13

Enhancement Scroll +14

Christmas Dream (10 units)
Attention: In both chests, just one item will be obtained randomly and the pets will be attached to the first character to use them.
- Grand Chase Star 2016 (1800 Cash)

(Grand Chase Star 2016, Frixion Set and Harkyon Wings)
- Squimo Set (1800 Cash) - in Sets tab
- Gaikoz Set (1800 Cash) - in Sets tab

After several suggestions and requests, we decided to add to the Cash store one of the sets previously available through the Essence system. This being said, we decided to add the first set to come to the server through this system, this measure aims to make the sets available to PvP players and players who don't have too much time to play the game. We are aware that most of the suggestions were to add the Essence to the Cash store, but we feel this action would harm the Essence system.

- Selective Visual Weapons Cerberus Chest (500 cash)
- Scorpio Ankle Band (350 Cash)
- Sagittarius Ankle Band (350 Cash)
- Couple Set - In Couples tab
- Golden Couple Rings - In Couples tab
Items for the House System (can all be purchased in the house shop)
 - Snowman
  - Hanging Sock
  - Christmas Table
  - Christmas Chair
  - Big Christmas Shelf
  - Christmas Window
  - Christmas Bed
  - Christmas Closet
  - Christmas Garland
  - Decorative Christmas Plate
  - Green Christmas Chest
  - Red Christmas Chest
  - Big Christmas Gift
  - Small Christmas Gift
  - Cake
  - Candle
  - Christmas Tree
  - Small Tree
Gacha System

(Ariel's and Clara's Gacha Systems)
Vip System
Cash Consumed

Compensation

999 ~ 3999 Cash

1 Kit de Pergaminhos de Abertura (+10)
2 Chave de Talentos
2 Pergaminhos de Proteção
1 Mochila (+30)
2 Pergaminhos de Fortificação +10

4000 ~ 6999 Cash

2 Pergaminhos de Fortificação +12
1 Mochila (+60)
2 Chaves do Poder Especial
2 Pergaminhos de Proteção Especial
1 Kit de Pergaminhos de Abertura (+20)

7000 ~ 9999 Cash/VP

2 Pergaminhos de Fortificação +14
7 dias de Joias da Rainha
2 Baús Aleatório das Asas Antigas
3 Pergaminhos de Proteção Especial
1 Kit de Pergaminhos de Abertura (+30)

10000 ~ 15999 Cash/VP

1 Carta da Mascote Lulu
2 Pergaminhos de Fortificação +15
2 Pergaminhos de Transformação Especial
1 Kit de Pergaminhos de Abertura (+60)
4 Baús da Pedra Épica

16000 ~ 999999 Cash

1 Asas de Vermécia
3 Pergaminhos de Propriedade Selecionavel de GP
2 Pergaminhos de Fortificação +17
2 Baús Selecionáveis das Asas Antigas
1 Caixa do Pacote Visual dos Elísios
Crafting System

(Christmas Visual Set)
- Peng Peng Pet
- Mittens Pet
- Christmas Signs
- Christmas Scarf
- Visual Christmas  Set/Snowman Set
- Rename Pet
- Big Santa Claus Head
- Angel's Ring
- Reindeer's Tiara Chest
- Enhancement Scroll from +7 to +13
Events
- Christmas Socks (accessible through the Menu > Events)
It's a long tradition to hang your socks for Christmas and wait for some goodies to be dropped by Santa Claus. In Ernas we certainly won't this tradition! If you're an old player, you will remember this one for sure!
When clicking onto the event icon, you will see this window, in it you can hang your socks on the tree in order to get gifts after some time. To get socks, you need to play either the PvP mode or the dungeon "Winter Veil". Take this time to enjoy the thematic maps!
Possible gifts from the socks:
Red Sock

Blue Sock

Yellow Sock

HP Potion (G) (2 uni.)

Vulcanus Demoniac Nucleos

Special Refining Scroll

MP Potion (G) (2 uni.)

Nemophilla Demonic Nucleos

Custom Ticket

Heroic Ticket

Grandiel Demonic Nucleos

Bag (+10)

Gem (5 uni.)

Silverland Onix

Bag (+30)

Mysterious Potion (G)

Epic Coin

Refining Scroll

Bermiash Onix

New GC Club (3 days)

Protection Scroll

Ellia Onix

Refining Scroll

Rename Pet

Xenia Onix

Angel's Ring (3 days)

Properties Scroll

Silverland Onix

Properties Scroll

Scroll: Squire Gaikoz

Red Sock

Blue Sock

Scroll: Krustaccio

Blue Sock

Yellow Sock

Scroll: Kaze'doggeh

New GC Club (1day)

Custom Ticket

Yellow Sock

Angel's Ring (1dia)

Special Refining Scroll

Scroll: Thanny Boy

Properties Scroll

Bag (+10)

Blue Sky Wings Chest

Refining Scroll

Scroll: Squire Gaikoz

Enhancement Scroll +12

Custom Ticket

Scroll: Krustaccio

Enhancement Scroll +13

Bag +5

Scroll: Kaze'doggeh

Enhancement Scroll +14

Scroll: Squire Gaikoz

 

Enhancement Scroll +15

Scroll: Krustaccio

 

Bag (+60)

 

Nickname Change

Skill Key
- Just in time!
In different days and times, you will be able to get some special Christmas items for free. So keep your eyes on the clock which will be on the top part of the game's screen.
Available Items through "Just in time!"
- Christmas Dream
- Merry Christmas Emote!
- Lin's Christmas Sign (event exclusive)
- Azin's Christmas Sign (event exclusive)
- Holy's Christmas Sign (event exclusive)
- Elesis's Legacy Christmas Set (permanent)
- Lire's Legacy Christmas Set (permanent)
- Arme's Legacy Christmas Set (permanent)
- Santamon Chase
Keep your eyes open, because Santamon might appear in your dungeon. If you defeat him, you will get thematic items.
- Solar Eclipse
- Winter Veil (Thematic Map) - Accessible in Bermiash
Gumiho is haunting the residents of Serdin's vicinity, freezing everything and everyone it sees ahead. You need to end its journey of terror before it's too late!
Suggested Level: 45+ (Normal), 85 (Hell)
Possible Drops: Christmas Dreams, Christmas Socks of all colors (event Christmas Socks), Pengo and Nyami Pets.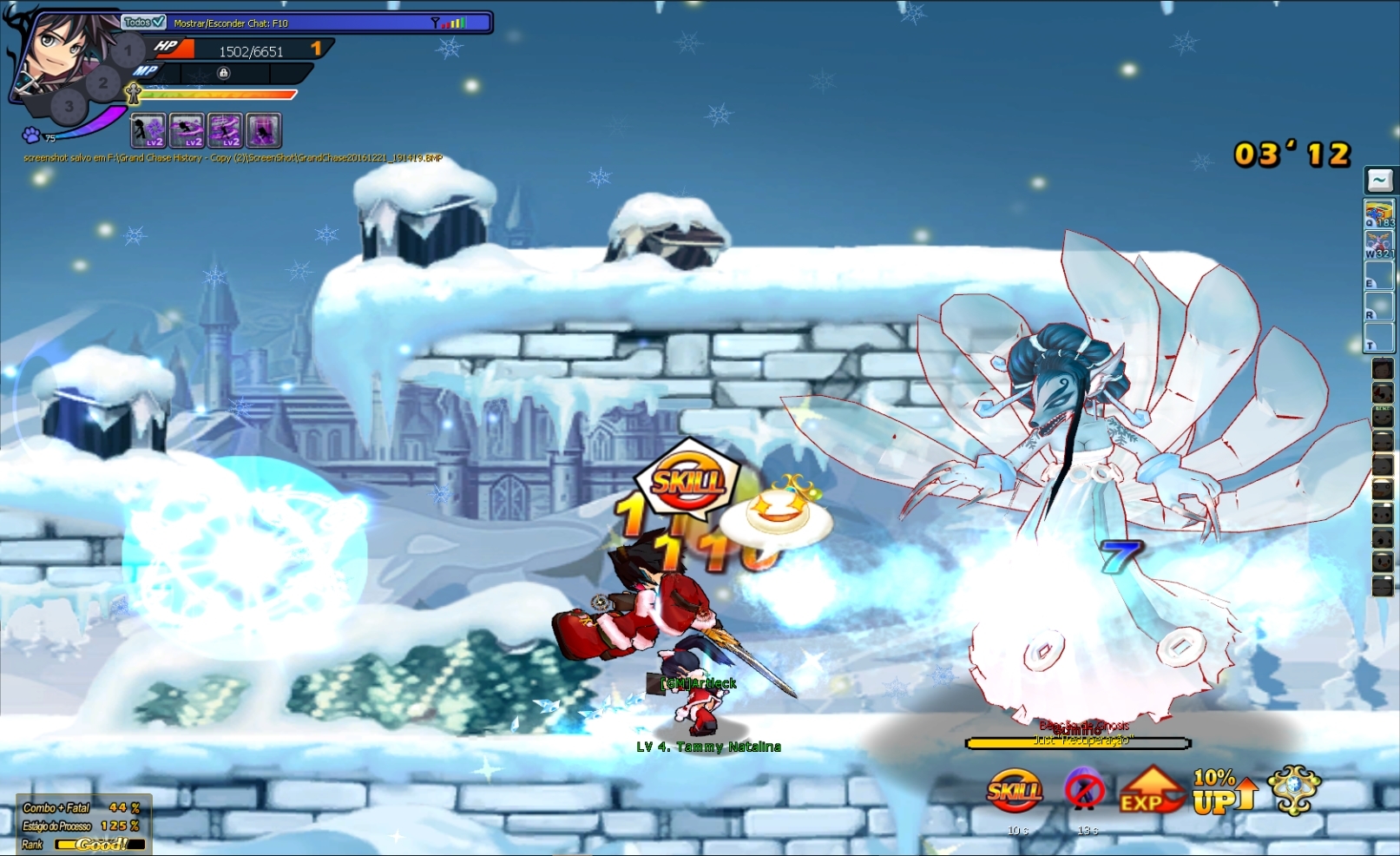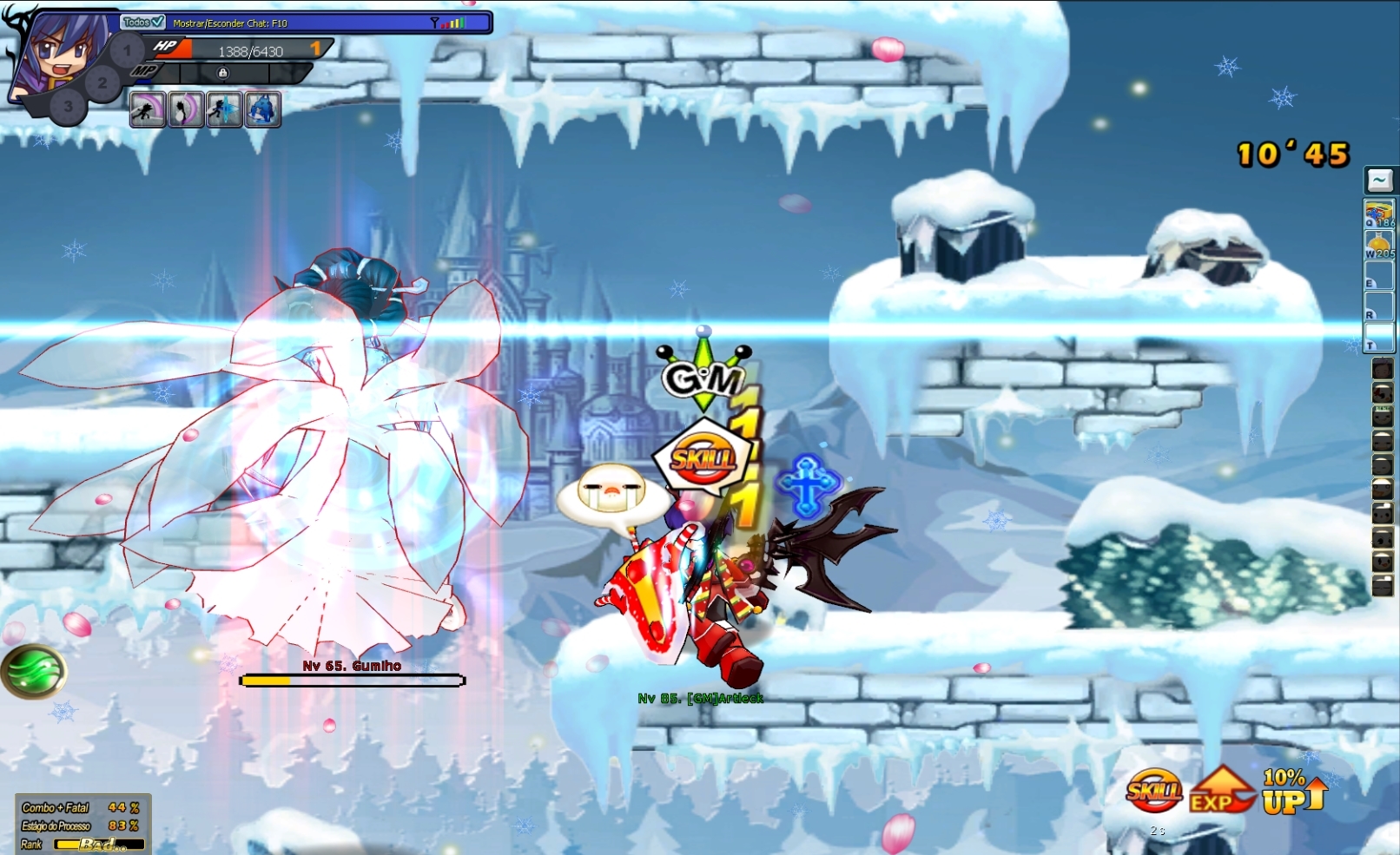 Attention! Both missions (Eclipse and Veil) will require tickets to be accessible (similar to Nightmare Circus requiring tickets to enter). These tickets will be distributed every day through Attendance checks. When you mark your attendance, you will receive 8 tickets for Eclipse and 8 tickets for Veil, and on the 24th & 31st, the amount will increase to 15. Our intention with this distribution is to stop dishonest players from rampantly farming these dungeons. In the previous event, we looked at thousands of accounts to get the average number of daily runs in the Eclipse, and we concluded that 8 would be the best amount for all players.
PvP Maps
- Thematic Park
- Winter Elven Forest (PvP)
- Thematic Swear Valley (PvP)
- Moonlight Village (PvP)
- Christmas Babel (PvP)
Have you ever imagined a PvP match on the Plaza? Well, now, you can do it! But be aware, it's a dynamic map where there are limits for the battles taking place, this makes players to "fall" onto the base floor in Plaza (similar to what happens in Gorge of Oath).
Attention! Due to its size and the amount of particles on these maps, it's not recommended for low performance machines.
- Hades Express 1 & 2 (PvP)
- Ents Forest (PvP)
- Night Elven Forest (PvP)
Removed
Cash Store:
- Awakening Sets
- Black Friday Chests
- Master Key
- Libra Ankle Band
Gacha System
- Aslan Gacha System
- Raven Gacha System
- Bluehell Gacha System
Events
- Pets Revolt + Gift Store (also, all Golden Coins which hadn't been used were removed from the accounts)
- Talin's Return
Extras
Experience and GP
From today until the 31st, the game has 3x rates for experience points and GP, enjoy! In addition, the bonus of 10x after level 70 has been disabled.
Items
We have reformulated the attributes for the following items: VIP Player Crest + Ellia and Purpure Ring to be an alternative for players in higher levels.
Optimization
During the recent months, we became aware of the FPS problems that players were enduring with the Anniversary Update for Windows 10 (1607), and as such we've aimed to improve the gameplay in this particular version. In this update, we've improved up to 25% in FPS performance for those players who use Windows 10. Any other versions will have no gains from it.
Attendance
Considering it hasn't been possible to access the game during the days 19, 20, 21 and 22 (especially the 20th and 21st), all these days have been attended for players.
Attention! For some players, the attendance may be visually bugged, showing that the specific day was not attended. Do not panic, for this is only just a visual bug and should be marked inside our servers.
Season V
As of lately, our servers have grown a certain... cult (the "AlmostTherism", also known as QuaseLáismo, a Brazilian meme). We've made some predictions for Season V's arrival without taking into account possible upholds and eventual actions we would have to develop throughout the update (this particular update would be an example of that as well). Due to this - and the Holidays (when the administrators will return to their hometowns to see their families), we won't be able to deliver satisfactorily the Season V to the server until the end of the year. As you know (if you follow us for while now), we would prefer to take a little longer to do something than to deliver it incomplete, and we believe this is our biggest and worst quality (it depends on your point of view).

One of the commonest doubts and also one of the most polemic ones is: With the Season V update coming will the individualization of the characters also come?
The answer for this question cannot be given with a 100% of certainty, but everything indicates that we won't bring this storage option with Season V, which is one the reasons for the delay. There's a reason why KOG decided to turn the storage individual (And we're hoping that we're not wrong with this): Performance. With the shared storage, every time a player access his/her storage, the server must run through hundreds of tables in order to load the items in said storage and this has a high cost for the data process. Everything gets slower, since we're dealing with hundreds of items (from thousands of players at the same time). The individualization cuts this cost from this data significantly (we are talking about half the performance needed, if we brought the individual storage), however, this option has its pros and cons (for example, the fact pets become individual to the characters like Frixion pet) and we got the conclusion that the individualization harms the player too much.

"Does this mean the server will never have an individual storage system?"
Yes and no. Luckily the processing capacity grows every year and we are able to meet the current demand in a satisfactory way, however our server grows rapidly and, if one day arrives where it can not support the data traffic of this system, we will need to individualize the inventory. Of course we will seek ways not to do it, as this will be only our last option.

"Why is this update so important?"
In short, SV provides us with means to add new content to the server, such as the long-awaited Uno or the Dimensional Gate.

"When can we expect SV?"
To avoid new followers of "AlmostTherism", lets say in the first trimester of 2017.